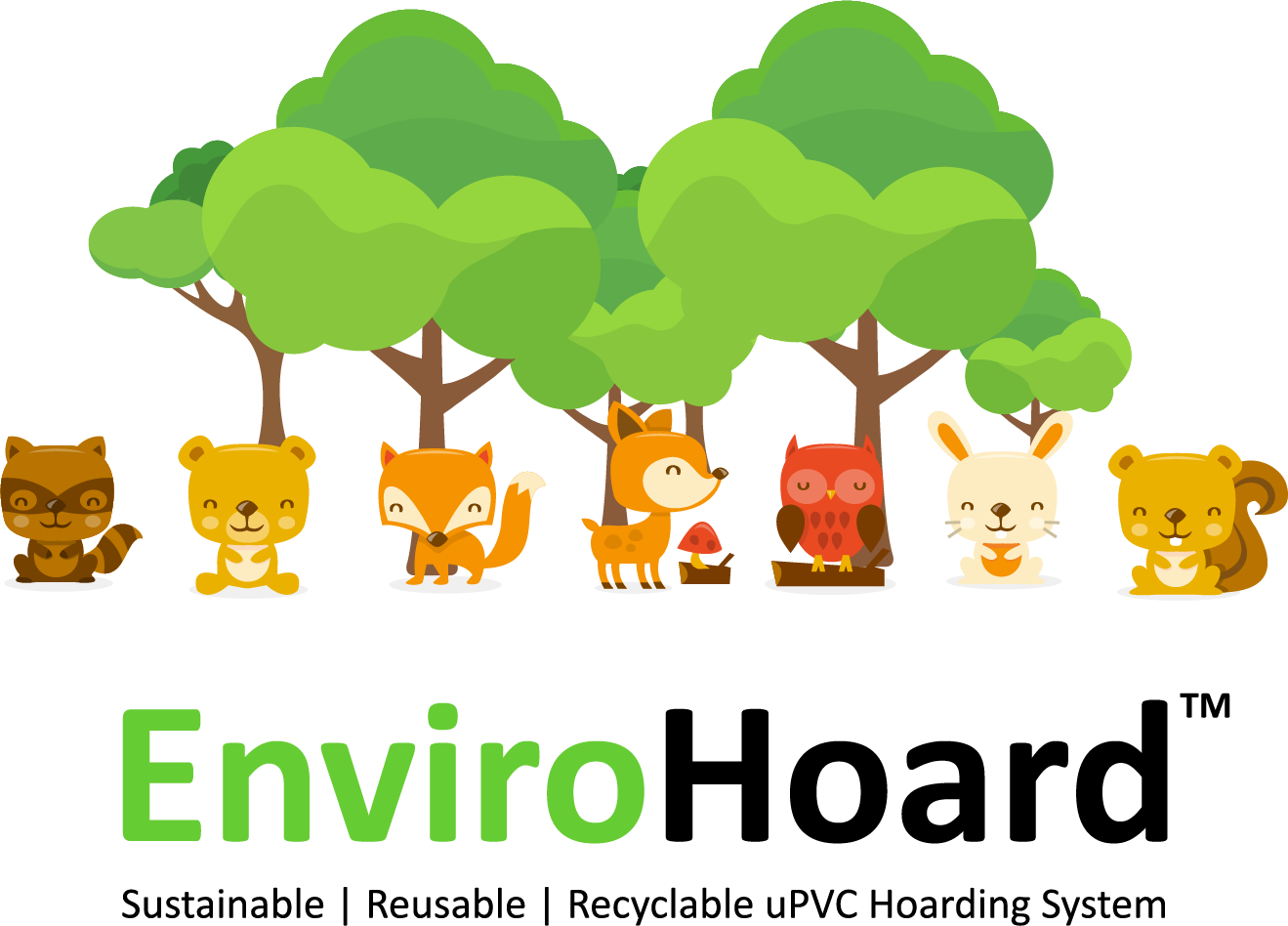 EnviroHoard™ is an environmentally friendly, closed loop, uPVC hoarding system made from 100% post industrial production uPVC. The system is quick to install, re-usable, recyclable and comes with environmental benefits – carbon offsetting and tree planting for every metre installed.
Developed by Panthera Group to help clients eliminate the use of timber and plywood for the construction of site hoarding, to support their BREEAM and Considerate Constructor scoring, whilst also working towards Construction 2025, the UK Strategy for Sustainable Construction.
The system can be installed in-ground, on-ground using certified concrete blocks as kentledge or fixed directly to scaffold which is ideal for street works. The framework is constructed using 48mm galvanized scaffold tube and standard scaffold fittings; a tried and tested framework for durability and temporary works design compliance. Improved manual handling as each panel weighs 5.7kg compared to 25kg for a sheet of 18mm plywood!
EnviroHoard™ panels are supplied as standard in a white finish but can be produced to match your corporate colours. If you are looking for a more creative eye-catching hoarding to showcase your project, Panthera offer a full, design, print and installation service – EnviroHoard™ panels provide a smooth, flat, clean surface which are perfect for directly applying vinyl graphics.
EnviroHoard™ is available on flexible hire terms or outright purchase, with an optional stocking and maintenance service, make 2020 your start towards a sustainable site hoarding future.
What are the environmental impacts of using timber for construction site hoarding?
How sustainable is it to cut down trees to use for construction site hoarding?
Much of the UK's wood is imported, often from countries with little forestry regulation. By eliminating the use of wood in your site hoarding, you are helping to minimise the unnecessary use of this valuable resource for products such as hoarding where there are now more sustainable options.
Did you know?
It is estimated that three fifty-year-old, 50ft Northern European softwood trees would have to be cut down just for the framework of 100m of standard hoarding and one sixty-year-old fast-growing Far Eastern hardwood tree to produce 82no sheets of hardwood throughout plywood?
Do you know what happens to your old hoarding material when it is removed from site?
If sent to landfill – Methane is 25 times more damaging to the environment than carbon dioxide, and each tonne of wood which rots in landfill is thought to produce a quantity of methane as harmful as 600 kg of CO2.
If recycled – The majority of waste wood that gets recycled is "downcycled" by being chipped to make chipboard or burnt in power stations. This involves the waste timber being industrially processed and shipped long distances, often overseas – so although using the wood in this way is preferable to landfill, it still has a significant carbon footprint.
Is your company still using timber hoarding?
Whether they are resistant to change, or just not thought about the impact of still using timber and plywood for their site hoarding they are still adding pressure on the worlds forest.
What are the benefits of specifying EnviroHoard™?
Why specify EnviroHoard™?
A central reason to consider specifying EnviroHoard™ is that NO trees need to be cut down for the manufacture. The system is quicker to install than traditional hoarding, it requires no onsite decorating, it will not delaminate or deteriorate, it requires no ongoing costly maintenance and importantly, is Temporary Works compliant.
What are the benefits for your organisation in specifying EnviroHoard™?
In addition to the knowledge that you making an ethical purchasing decision, the use of EnviroHoard™ will help support your BREEAM and Considerate Constructor scoring, whilst also working towards Construction 2025, the UK Strategy for Sustainable Construction.
EnviroHoard™ is a 'closed loop' recycled uPVC hoarding system designed to help contractors eliminate the use of timber and plywood in the construction of their site hoarding.
Specify EnviroHoard™ for carbon offsetting and tree planting benefits
Panthera have teamed up with leading carbon offsetting specialist,Circular Ecology. They deliver credible schemes to Gold Standard, Verified Carbon Standard (VCS), Plan Vivo and the UN Clean Development Mechanism. All schemes are retired on official registries and carbon offsetting certificates provided.
So, how does carbon offsetting work when you specify EnviroHoard™?
For every linear metre of EnviroHoard™installed we will purchase carbon credits from our chosen schemes. Our first scheme is Rimba Raya and the second is renewables such as wind, hydro and solar.
Rimba Raya is a living example of an economically viable alternative to deforestation
Rimba Raya is the largest REDD+ project in the world, in terms of avoided emissions delivered to date, protecting nearly 65,000 hectares of peat swamp forest in Central Kalimantan in Indonesian Borneo and avoiding more than 130 million tonnes of carbon emissions.
Rimba Raya develops livelihood programmes in surrounding villages (addressing all 17 of the UNSustainableDevelopment Goals) to provide education, employment and hope for the future.
Rimba Raya is also the world's largest privately-funded orangutang sanctuary.
Rimba Raya is an InfiniteEARTH
In addition to supporting our two chosen carbon offset schemes, we will be planting trees in the UK with our chosen UK charity, Trees for Cities. They are the only UK charity working at a national and international scale to improve lives by planting trees in cities.
Our partner Circular Ecology will be supporting Eden Projects who plant trees across locations such as Madagascar, Haiti, Nepal, Indonesia, and Mozambique. These are all nations that have been ravished by deforestation.
For each ton of CO2 offset, Circular Ecology will plant one tree.
For every 100m of new EnviroHoard™installed Panthera's partner Trees for Cities will plant three trees across cities in the UK. We will endeavour to coordinate that trees purchased from the project are planted in the community through local programmes, or even on the project itself.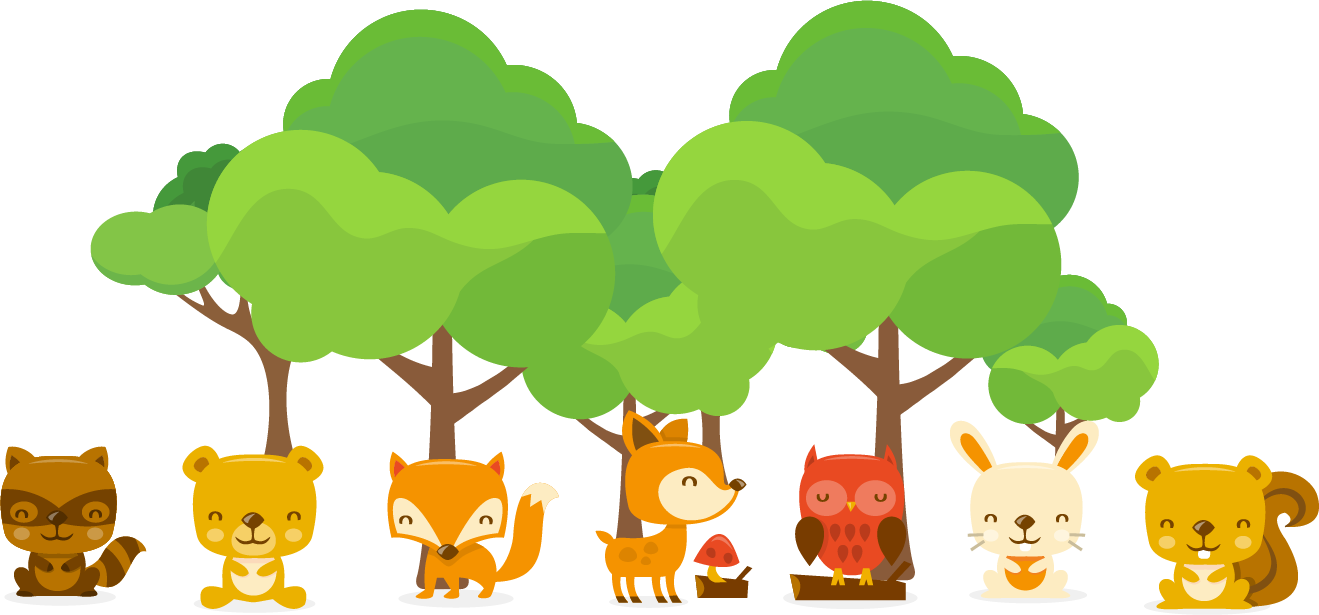 Environmental Benefits
ISO14001 – closed loop recycled uPVC process
100% Recyclable system
Zero timber or ply used
100% Reusable system
Zero to landfill
Unlike plywood hoarding, no 'downcycling' after use
Directly applied graphics removes use of aluminium dibond
Improves Breeam scoring
Considerate Constructor benefits
Every 100m of EnviroHoard™ installed = three trees planted by our partner Trees for Cities
Carbon offsetting for every metre installed to our two chosen schemes
Commercial Benefits
Contract hire
Outright purchase
Guaranteed buy back
Reuse EnviroHoard™ for measurable savings
Modular design reduces cost of hoarding moves
On-ground system eliminates financial risk of cable strikes
No costly ground reinstatement with on-ground system
Will not deteriorate like plywood
No costly decorating maintenance
Lower cost graphics as vinyl directly applied
Operational Benefits
On-ground, in-ground or fixed to scaffold
Faster installation and hoarding moves than traditional hoarding
TWf:2012 site specific calculations – wind/crowd/vehicle
Temporary works compliant
20 – 30 year life expectancy
Panel heights up to 7m
Will not delaminate or deteriorate like plywood
RAL colour matching service and no onsite decorating
Flat face for applying creative graphics/branding
Stock management and logistics service
Health & Safety Benefits
Improved manual handling – 30% lighter than plywood
Zero risk of cable strikes with on-ground system
No timber eliminates risks from wood dust
No painting, no sanding dust or solvents
On-ground system – no risk of HAVS from breaker
Considerate Constructor benefits
Our environmental partners
Circular Ecology was founded in 2013 to offer a range of resource efficiency services, including carbon and water footprinting, life cycle assessment (LCA), circular economy and general resource efficiency.
Trees for Cities are the only UK charity working at a national and international scale to improve lives by planting trees in cities.
Unit 13
Perrywood Business Park,
Redhill, Surrey
RH1 5JQ
Registered in
England & Wales.
Company no. 05332880